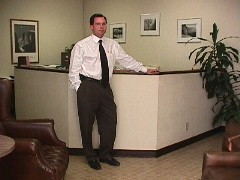 Bob Wright Industrial Properties, Inc. was incorporated in 1979 by my father -Robert M. Wright, Jr. In March 1997 I purchased my fathers business and today, after 27 years in the industrial real estate business, Bob Wright Industrial Properties, Inc. continues a family tradition of providing professional real estate services to the southern California public.
I have been working hard to expand the scope of services provided by Bob Wright Industrial Properties, Inc. since 1984,when I returned home from a four (4) year tour in the U.S.Army. My area of expertise reaches from South El Monte to Ontario between the San Bernardino (10) and Pomona (60) Freeways in the San Gabriel Valley. I have also become educated in many submarket locations including East Anaheim, Yorba Linda, Placentia, Fullerton, Fountain Valley, Long Beach and Santa Ana.
January 22, 2012 was my 27th year working for Bob Wright Industrial Properties, Inc. My focus has been representing landlords in leasing, sales and property management of industrial, office and commercial properties. I currently represent owners for marketing and/or management of over one million (1,000,000) square feet of industrial, commercial and office properties throughout the Southern California area.
As the years pass I continue to remind myself that industrial real estate as the ideal investment property. I believe industrial buildings are similar to a pick-up truck; no mater what the age - so long as they have been properly maintained - they always have value. While some industrial buildings may be more valuable than others, all industrial buildings have unique charicaristics suited for warehousing and manufacturing. My new revelation is that retail properties have many similar characteristics to industrial buildings in that age is irrelevant - so long as they have been properly maintained.
My deals have included a 127,000 square foot sublease from Vans Shoes to the Frank & Son Collectible Show in Walnut, a 67,000 square foot lease to Floor and Decor Outlets of America in Santa Ana, a 40,987 square foot sale to Henn's Investment Company in Ontario, a 37,180 square foot lease to Precision Countertops in Fountain Valley, a 20,000 square foot sale to Vogel Properties, Inc. in Yorba Linda, a 25,960 square foot ten year lease to ATI in the City of Industry, a 3,000 square foot lease to Condom Revolution in Long Beach and just about everything in between.
Some other transactions include selling 4.42 acres of land on Valley Boulevard in Walnut, selling 25,080 square feet on Mason Way (twice), leasing a two building 100,000 square foot industrial project on Lemon Avenue in Walnut for Karney Management selling a 16,080 square foot building at 17769 Railroad Street to Yum Yum Donuts, leasing a 57,000 square foot building at 17355 Railroad Street for Yum Yum Donuts leasing two 14,400 square foot units on Tucker Lane, leasing 11,500 square feet at 2827 Pomona Boulevard, selling 4.8 acres of land on Nandina in Moreno Valley and selling 2.1 acres of land on Railroad Street in the City of Industry (which completed a ten year listing period).
I have many goals: 1) To provide a comfortable life for my wife Carrie and our daughters Grace and Hope; 2) To lease and/or sell a 300,000 square foot industrial building; 3) To sell more land; 4) To build a building; 5) To own industrial property.
On a more personal level, and to achieve one of my goals: In late July of 1997 my wife Carrie McCleery Wright - who was 9 months pregnant at the time - and I sold our Anaheim Hills townhome and purchased a vintage 1964 tract home in Placentia. Painted purple, this four bedroom, two and one-half baths covering some 2,076 square feet had fist sized holes in the roof, 3' tall weeds in the front yard, literally hundreds of roaches in the kitchen and ready for demolition. Our insurance carrier gave us thirty days to replace the roof...or loose our homeowner's insurance. It took approximately two (2) years to complete the remodeling and it was well worth it. Then, in 2011 opportunity struck with a Bank of America forclosure in Yorba Linda. Carrie and I decided to trade into a (once spectacular) home on a bluff sitting on 37,000 square feet at the end of a private drive in Kellogg Hieghts and move our plant collection. The home is currently in need of major renovation - but, it is our new home.
For the past 15 years, I have been collecting and growing rare palms and cycads. I now have over 200 different spieces of palm and cycad growing in my yard.
In the summer of 2003, in Placentia, we hired Curcie Pools to construct a "lagoon" themed spa, pool and waterfall. The goal was to provide a cohesive mix of rare palm and cycad with a natural setting of water. In our modest suburban setting it was a real challenge to construct such a pool without compromising on space.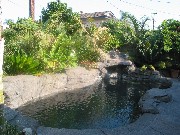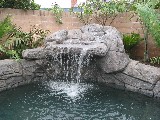 Watch for new photo's of the Yorba Linda Home Remodel
Mitch Wright (909) 598-2811
Return to Home Page